August 18th 2013, at least according to Last.FM, was the first time I listened to Avicii. It was THE song that people were listening to, Wake Me Up. And then I got to listen to Hey Brother in the same year. I didn't really stream his music that much since it was the first year I got into EDM.
The Year I Listen To Avicii The Most
I began to listening to his music like crazy in 2016 where I listened his music at least for 163 times. Keep in mind that during this time I barely had proper device to scrobble my music. And I kept changing my Desktop PC/Laptop then forget to set up my last.fm account to that device. Not to mention Spotify won't scrobble the songs if you listen to it offline. Sucks, right?
Kicking In The Top 40
His music is pure gold. You can always listen to it everytime you need a kick in life. But since I listened to a lot of artists sometimes I got his songs skipped which also explained why he's not on my top 10 most listened artists. But he made it into top 40 though.
I Listened To True The Most
True is his debut album that got everyone talking. It went number one in many countries and landed in top 15 in most of the relevant music market. This album contains songs that made him what he was. Wake Me Up, Hey Brother and one of my favorite You Make Me. The second 'album' by him that I listened to most is Levels. It's marked as an album since it's a single. So yeah. And this is the song that skyrocketed him to relevancy.
99 Times of Levels
Like I said previously. Levels should be counted as a song and not an album. But I think that's just how Last.fm / Spotify work. This iconic song is my most listened Avicii's song. It even is still in my Workout playlist.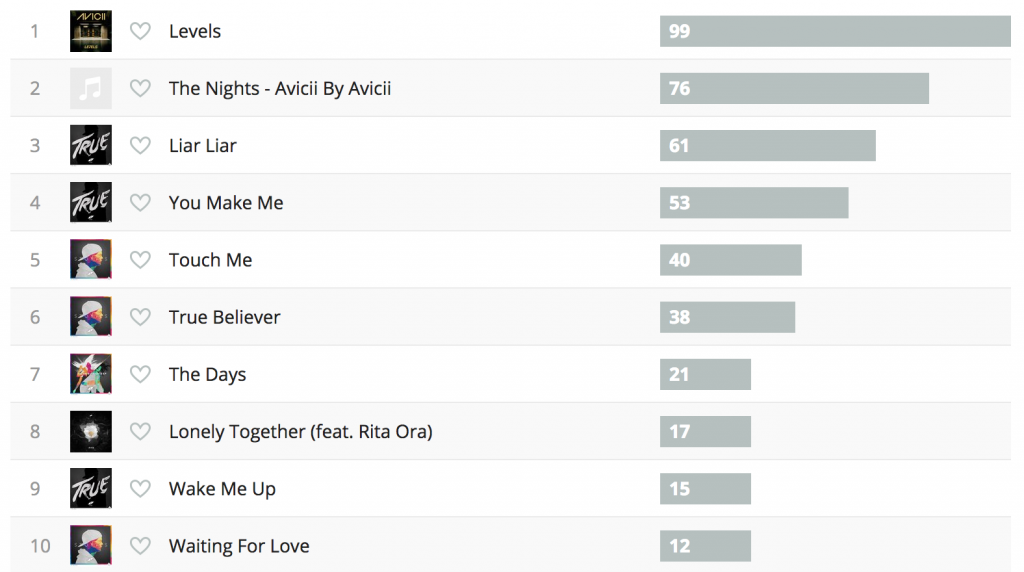 Rest Easy, Tim Bergling.