Britney Spears just released a new music video for her first single Make Me off of her up-coming album GLORY which will be released later this month but fans are not feeling it!
Months ago Britney Spears uploaded pictures to her cool and edgy instagram account showing her on the set of Make Me music video. Then yesterday she released the video and there is zero trace of anything that she posted months ago. What did happen?
A month after the music video shooting which was directed by David La Chapelle a couple of clips leaked into the worldwide web showing Britney danced with her male dancers, dancing in a cage by the pool, destroying a house with an effing bulldozer, and even throwing a TV out of the window . A month after the clips leaked a.k.a. yesterday, the day of the release of the music video, we got nothing but Britney and her friends auditioning hot ripped guys. Later Britney had 'fun' with the chosen guy while her fans watching it. This new music video was directed by Randee St. Nicholas.
Fans are still not having that kind of video. Britney is known as an artist who delivers a really fantastic music video for the first single: Baby One More Time, Oops I Did It Again, I'm A Slave 4 U, Me Against The Music, My Prerogative, Gimme More, Womanizer, 3, Hold It Against Me, Work Bitch. They are all flawless, unique, iconic and groundbreaking!
And now we got Make Me music video featuring a bunch of guys auditioned by middle aged women while laughing over the flawless song. Not to mention the product replacements throughout the video make the video like a 5 minutes non-stop commercial break. Furthermore the cover for Britney's new album Glory was literally a screenshot of this new video! Didn't they bother to arrange a meeting just for a cover album photoshoot? I mean this is Britney Spears, a legend of pop world. How come they let a screenshot to be a cover of a new long-awaited album? No wonder the cover looks really blurry and grainy. And that tacky font! Tt seems like they used Microsoft PowerPoint to paste that font on top of the freaking screenshot. Since the day they revealed the cover, I have never liked it. Neither these one thousands fans who signed the following petition.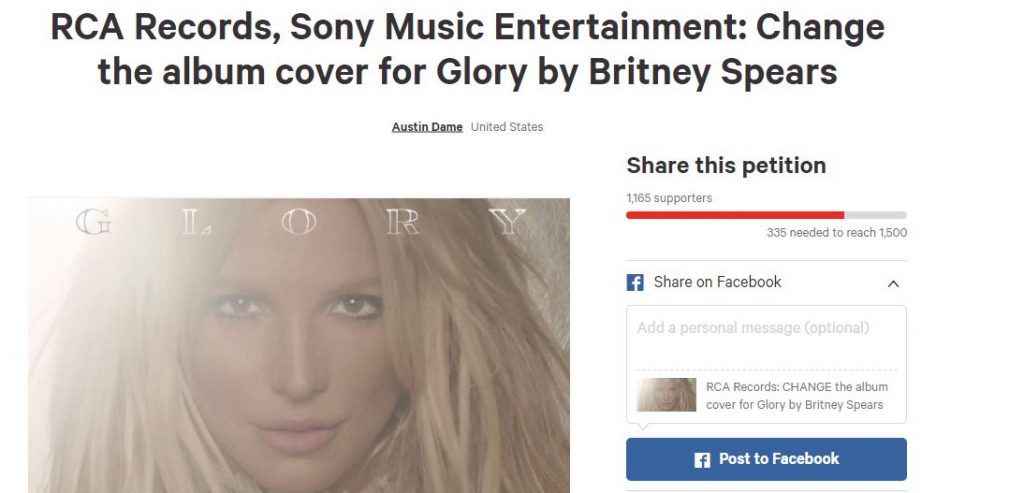 A moment after the music video release, several media reported that Britney and or her team doesn't like the original music video because it's too sexy, doesn't make any sense and has no clear storyline. It's really funny to hear this kind of thing from Team Britney, they keep doing the same mistakes over and over again and seems like they will never learn from the past. I thought it's a team of professionals behind Britney's back. I mean if they really are a professional in their own field, they should have known how the video will look like at the end. They should have had at least several team meetings before the shooting began. Why let Britney shoot that 'sexy' scene in the very first place? If she's really uncomfortable, then why in the very first place did she keep dancing, shaking that booty, exposing that sexy body when the camera's rolling? She does not look uncomfortable at all! Not even a bit in the original video of Make Me.
It's ironic to say that they don't want to release the original video because it's too sexy and could hurt her mom image, but instead they still released a video which shows Britney auditioned a guy to f**k with. Is it not sexy too? If she doesn't want to do a sexy video, maybe it's time to stop singing a song about orgasm. Go release a gospel album or release something like Kidz Bop! Fans have started a petition, but trust me. It won't work. Last time I checked, they still haven't released the original Perfume music video even though about 17 thousands people signed the petition.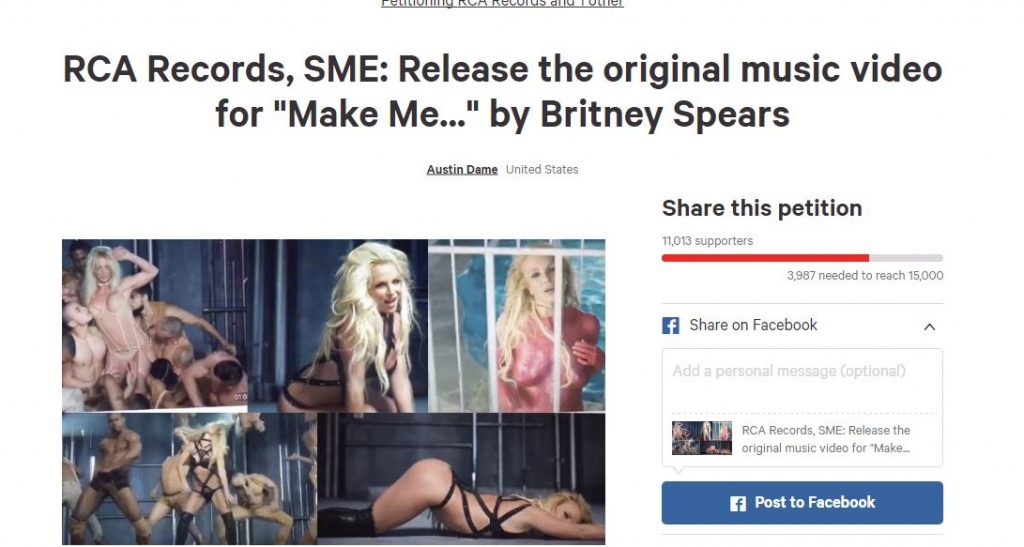 This whole Make Me video drama is like when you order a product from the internet: you barely get what's promised.